On Letting Go: the 10-Year Anniversary Tour
Circa Survive has been a band that truly carried me through a majority of my formative years. Their music was something that my young inner emo scene kid related to on a deep and personal level. Plus, Anthony Green has the voice of an angel, what's not to love? When I heard that Circa Survive was doing a 10-year anniversary tour I couldn't contain my excitement.  Plus, was gifted a ticket to the show. Lucky me, right?
I saw them five years ago in Orlando when they were touring with Balance and Composure. To make it even better, two of my more recent favorite bands, Turnover and mewithoutYou, were the supporting acts. To say this was a literal dream tour would be an understatement. I can't begin to express how excited I was to see all three musical geniuses at one show.
I ended up getting to the Tabernacle a little later than I would have liked. Security took a second to get through and I can honestly say this was the first time I've ever been patted down before going into a venue. I get it though, with all the crazy shootings at music festivals and nightclubs lately, it totally makes sense. Safety first. This was my first time at the Tabernacle and I ended up getting just a little lost for a second. I finally managed to make my way upstairs and grabbed a drink before diving into the music. (Side note: Yuengling should NEVER cost $11, I don't care how big the can is.) I made it just in time to see Turnover play the last three songs of their set. Turnover is one of those bands for me that transports you on a musical journey and touches your soul in ways you never expected. I've seen them four times and every time I end up crying. If you've never heard of Turnover go listen to their album Peripheral Vision from start to finish. You will not regret it.
Next up was mewithoutYou. I weaseled my way into a pretty decent spot for Turnover, but I wanted to take advantage of the time between sets, so I started making my way up even further into the crowd. As soon as mewithoutYou came onto the stage, the energy of the room changed completely. They started their set with "Bullet to Binary,"the perfect song to get the crowd going. They were engaging and made everyone in the room want to dance. By the time they started playing their third song "Magic Lantern Days," they had gotten the crowd so hyped that people started launching their empty, or in this particular case, partially empty beer cans into the crowd. Of course, I happened to be the unsuspecting target of one of these beer grenades and managed to get pegged in the face with a half full beer can. 10/10 would not recommend. Moral of the story: when the crowd gets hype, watch for flying beer and dodge it if you can.
I didn't let this keep me from having a good time, and to be quite honest on the scale of things to hit my face during a show, this was a fairly tame occurrence. I managed to just vibe along with the energy of mewithoutYou and kept dancing the night away with the crowd full of strangers around me. They ended their set with "Nice and Blue." They have such a magnetic presence, it's hard to do anything but have a good time when you're watching them.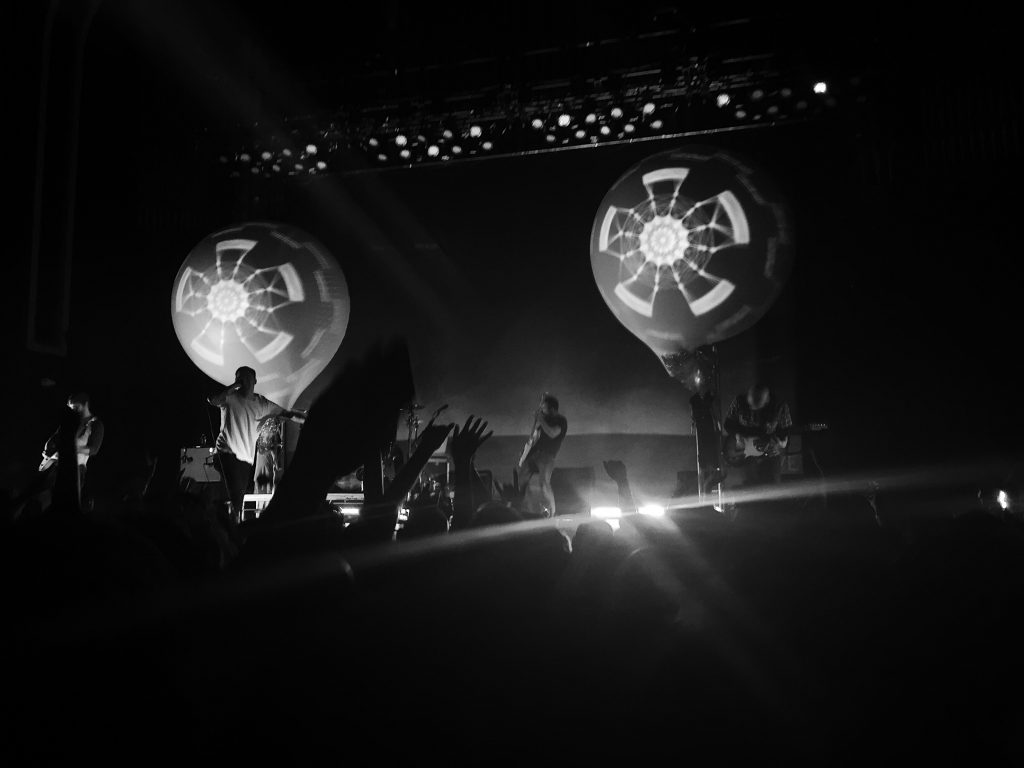 The time between sets seemed to drag on forever and the anticipation was killing me. Finally, the iconic flaming girl hot air balloons had been revealed and the crowd "woo'd!" in approval. It was like seeing one of your favorite album covers come to life right in front of your eyes. Esao Andrews is the artist that designs the artwork for Circa Survive's album covers, so if you like their album art as much as I do, check him out. His other work is amazing too.
It was almost time for Circa to start, all of a sudden Anthony Green walks onto the stage and the magic was beginning. They started their set with "Living Together" and played the whole "On Letting Go" album all the way through with the addition of their two songs from the single "B-Sides" that they released on January 18 of this year. Having have gone to a Circa show before, I anticipated that the crowd would be fully into it from the get go, which made me even more excited to be there. If there was anything I should have learned from the first time seeing them live but didn't, it was that no glasses are safe on your face from crowd surfers, so just don't wear them. I quickly relearned this as my glasses were kicked off of my face during the first song.
There was one point when Anthony was just singing with his hands out into the crowd, feeling and feeding off of the energy that we were providing for him. I know there are artists out there that mention the crowd's energy, but with him, you could really tell how genuine the experience was. He loved being with us just as much as we loved being with him, which is what makes seeing them so special. By song four, "The Difference Between Medicine and Poison Is in the Dose," I had managed to make my way into the heart of the pit. The experience you have standing in the back of a crowded room vs being two people back from the barricade is exponentially different.
Every song brought back nostalgic memories of a much younger me singing along in my bedroom and loving every second of it. The thing about 10-year anniversary tours and what makes them so special is that they bring up a sense of nostalgia. The night came to a close sooner than any of us would have liked. They ended their set with "Close Your Eyes to See" and left the stage just as quickly as they came. Of course the crowd cheered for an encore. There was one song left on the album and it was one of my personal favorites. They came back on and Anthony had made a wardrobe change. He was now sporting an Atlanta Falcons t-shirt. They played "Your Friends are Gone" and it was the perfect end to a perfect night. Until next time Circa. This is not goodbye, but rather, see you later.
-Elyssa Velez